5 Facts You Didn't Know About Schaeffer Precision Alignment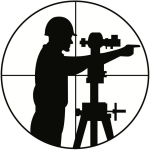 Typically we reserve this blog for a discussion about how our services can improve the equipment and machinery of our clients. However, in today's blog we are taking steps to be more transparent about who we are and the purpose behind Schaeffer Precision Alignment (SPA).
The following list gives 5 largely unknown facts about SPA and our president, Michael Schaeffer.
Michael Schaeffer originally started the company as a local land surveying business, but as the optical measurement technology improved and eventually moved to laser metrology equipment SPA began offering more advanced alignment services beyond land surveying.
Atlanta, Texas (175 miles east of Dallas) has always been the home of SPA. Although the company has had several office buildings the business has always resided in Atlanta, Texas since 1989.
Although the majority of our clients are in the United States, SPA has provided alignment service to clients internationally as well. Today we offer specialized services like steam, gas, and hydro turbine metrology to clients around the world.
SPA's popular turbine alignment services were originally pioneered by our president Michael Schaeffer. Using engineering and innovation Schaeffer was able to design fixtures and specialized tools to start using laser metrology equipment to align turbines.
Our company is known for its customer service, but our president is dedicated to helping more than just SPA's clients. Michael Schaeffer regularly makes international trips to places like Guatemala and Romania to help build homes, schools, and share the saving message of Jesus Christ.
Although Schaeffer Precision Alignment is a specialized service company we believe that through service we can improve people's lives and help create solutions where others only see problems. We are qualified to provide professional metrology services, but we believe it is truly about serving people and making a difference anywhere we are needed.